Kensington News
Below are the latest developments in the world of property tax appeals, government refund recovery, and what's new with Kensington: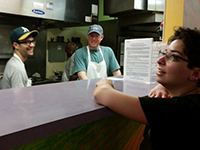 In July 2014, Kensington's employees volunteered to help feed some of Chicago's homeless community at the Inspiration Café in the Uptown neighborhood of Chicago.
The Inspiration Café at 4554 N Broadway in Chicago, provides a warm meal to the homeless and less-fortunate in a restaurant setting. The Inspiration Café offers a positive environment, nutrition, and a chance to improve the lives of Chicagoans affected by Homelessness and Poverty.
---
There is pending legislation (SB 2854) that is on the Governor's desk for signature which we were actively involved in pushing and finding a sponsor for the bill. If signed, the legislation will change the Cook County refund statute of limitations from 5 years to 20 years. Currently Cook County has 20 years to pursue property owners for unpaid property tax bills. This legislation will level the playing field for property owners who are owed refunds, giving them 20 years to pursue any refund owed to them.
---
Chicago, IL (March 2010) – In keeping with its commitment to give back to local communities, Kensington Research & Recovery teamed up with Garden Center Services, a non-profit organization dedicated to helping individuals with developmental disabilities, to renovate a home located in Burbank, IL for the center's residents…
Read More >
---
Chicago, IL (June 2009) – The Loyola University Chicago Family Business Center announced that Kensington Research and Recovery was part of a select few small businesses that were nominated for 2009 Illinois Family Business of the Year …
Read More >