How to Determine Your Cook County Township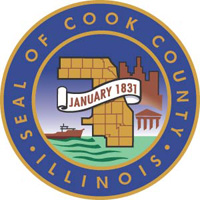 When appealing your property taxes, you first need to identify in what township you live.
This may be straightforward if you live in Evanston or Oak Park, but where is Bloom, Bremen, Lake, and South Chicago? These latter examples do not relate to a particular suburb or Chicago neighborhood.
4 Methods
There are four ways to determine in what Cook County township you live:
Check your property tax bill (top right) – get a copy mailed to you here
Call the Cook County Assessor's Office at (312) 443-7550
Visit the Cook County Assessor's Office website and enter your PIN or address
View the township table below
Get your free property tax reduction estimate
Below is a Cook County township map, followed by boundaries for each township.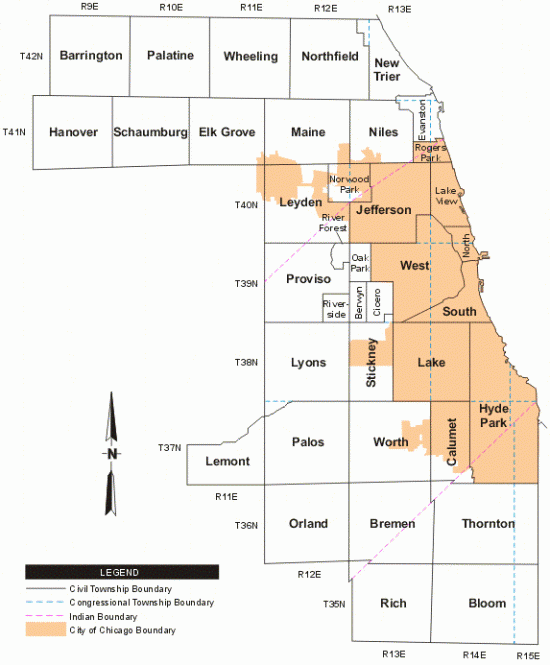 Cook County Townships & Boundaries
Cook County Townships
North
Border
South
Border
West
Border
East
Border
Cities, Towns & Villages
Barrington
McHenry/Lake
County Line
Central
Kane
County Line
Huntington

Barrington
Barrington Hills (south 3/4)
East Dundee
Hoffman Estates
Inverness (west 1/4)
South Barrington

Berwyn
n/a (township borders match those of the suburb)
Bloom
183rd
231st
Western Ave.
Indiana
State Line

Chicago Heights
Flossmoor
Ford Heights
Glenwood (almost all)
Homewood (portion)
Lansing
Lynwood
Olympia Fields
Park Forest
Sauk Village (almost all)
South Chicago Heights
Steger

Bremen
135th
183rd
Harlem Ave.
Western Ave.

Oak Forest
Midlothian
Posen
Robbins
Blue Island (portion)
Homewood (portion)
Orland Park (portion)
Tinley Park (portion)
Crestwood (portion)
Hazel Crest (portion)
Markham (portion)
Country Club Hills (portion)
Harvey (the very Western edge)

Calumet
119th
138th
Western Ave.
See Map

Blue Island (east half)
Calumet Park
Riverdale

Cicero
n/a (township borders match those of the suburb)
Elk Grove
Central
Devon Ave.
Rohlwing/I290
Mount Prospect
Road

Arlington Heights
Elk Grove Village
Mount Prospect
Rolling Meadows
Des Plaines

Evanston
n/a (township borders match those of the suburb)
Hanover
Central
Devon Ave.
Kane County
Line
Barrington Rd.

Bartlett
Elgin
Hanover Park
Hoffman Estates
Schaumburg (west edge)
South Barrington (south edge)
Streamwood

Hyde Park
Pershing (39th)
138th
State St.
Lake Michigan
/
Indiana
State Line

Avalon Park
Burnside
Calumet Heights
Chatham (portion)
East Side
Grand Boulevard (portion)
Greater Grand Crossing (portion)
Hegewisch
Hyde Park
Kenwood
Oakland (portion)
Pullman
Riverdale
Roseland (portion)
South Chicago
South Deering
South Shore
Washington Park (portion)
West Pullman (portion)
Woodlawn

Jefferson
Devon Ave.
North Ave.
Harlem Ave.
Western Ave.

Albany Park
Avondale
Belmont-Cragin
Dunning
Forest Glen
Hermosa
Irving Park
Jefferson Park
Logan Square
Montclare
Portage Park

Lake
Pershing (39th)
City of Chicago
Border
City of Chicago
Border
State St.

Back of the Yards
Englewood

Lake View
Devon Ave.
Fullerton Ave.
Western Ave.
Lake Michigan

Bucktown
Edgewater
Lakeview
Lincoln Park
Lincoln Square
North Center
Old Town Triangle
Ravenswood
Roscoe Village
Uptown
Wrigleyville

Lemont
Bluff/DuPage County Border
135th
Smith Rd.
County Line Rd.

Lemont
Palos Park (west edge)
Willow Springs
Woodridge

Leyden
Devon Ave.
North Ave.
Harlem Ave.
Western Ave.

Bensenville (east portion)
Elmwood Park
Franklin Park
Melrose Park (north portion)
Norridge (west edge)
Northlake (north portion)
Park Ridge (south edge)
River Grove
Rosemont (southeast 3/4)
Schiller Park

Lyons
39th
87th
County Line Rd.
Harlem Ave.

Bedford Park
Bridgeview
Brookfield
Burr Ridge
Countryside
Hickory Hills
Hinsdale
Hodgkins
Indian Head Park
Justice
La Grange
La Grange Highlands
Lyons
McCook
Pleasantdale
Ridgewood
Riverside
Summit
Western Springs
Willow Springs

Maine
Central
Devon Ave.
Mt. Prospect Rd.
Harlem Ave.

Des Plaines
Glenview
Morton Grove
Niles
Park Ridge
Rosemont

New Trier
Lake County Line
Central/Evanston Border
See Map
Lake Michigan

Glencoe
Glenview (portion)
Kenilworth
Northfield (portion)
Wilmette
Winnetka

Niles
Central
Devon Ave.
Harlem Ave.
Just East of McCormick Rd.

Glenview
Golf
Lincolnwood
Morton Grove (east 3/4)
Niles (southeast half)
Skokie

North Chicago
Fullerton Ave.
Chicago River
(main stem)
Chicago River
(north branch)
Lake Michigan

Gold Coast
Loop
Old Town
River North
Streeterville

Northfield
Lake County
Line
Central
Des Plaines River
/
I-294 (approx.)
Harms Rd.
/
Prairie St.

Glencoe
Glenview
Northbrook (majority)
Northfield (west 3/4)
Prospect Heights (east edge)
Wilmette (west edge)
Des Plaines (north edge)

Norwood Park
n/a (township borders match those of the suburb)
Oak Park
n/a (township borders match those of the suburb)
Orland
135th
183rd
Will County Rd.
(County Line)
Harlem Ave.

Orland Hills
Orland Park
Tinley Park

Palatine
Lake County
Line
Central
Huntington Rd.
/
Eastern Ave.
Wilke Rd.

Arlington Heights (west of Wilke Rd.)
Barrington
Deer Park
Hoffman Estates (northeast)
Inverness
Palatine
Rolling Meadows (north of Central Road
Schaumburg
South Barrington

Palos
87th
135th
Will Cook Rd.
(Will County Line)
Harlem Ave.

Bridgeview (south 1/4)
Hickory Hills (south 3/4)
Orland Park (small northern part)
Palos Heights (west 1/2)
Palos Hills
Palos Park
Willow Springs (south portion)
Worth (west 1/4)

Proviso
North Ave.
39th
I-294
Harlem Ave.

Bellwood
Berkeley
Broadview
Brookfield (northwest 1/2)
Elmhurst (portion)
Forest Park
Hillside
La Grange Park (majority)
Maywood
Melrose Park
North Riverside
Northlake (south 1/4)
Oak Brook (parts)
Stone Park
Westchester
Western Springs (north portion)

Rich
183rd.
231st/Steger
Harlem Ave.
Western Ave.

Country Club Hills
Flossmoor (west 3/4)
Frankfort
Hazel Crest
Homewood
Matteson (majority)
Olympia Fields (vast majority)
Park Forest (north 3/4)
Richton Park
Tinley Park (portion)
University Park (portion)

River Forest
n/a (township borders match those of the suburb)
Riverside
Cermak Rd
39th St
9th Avenue
Harlem Ave
Rogers Park
Evanston Border
Devon Ave.
Kedzie Ave.
Lake Michigan

East Rogers Park
West Rogers Park

Schaumburg
Central
Devon Ave.
Barrington Rd.
Route 53

Elk Grove Village
Hanover Park
Hoffman Estates
Roselle
Schaumburg
Streamwood

South Chicago
Chicago River
(main stem)
Pershing (39th)
Chicago River
(south branch)
/
Chicago Sanitary &
Ship Canal
Lake Michigan

Bridgeport
Brighton Park
Bronzeville
Lake Meadows
Loop
McKinley Park
Prairie Shores
South Loop

Stickney
65th
87th
Harlem Ave.
Cicero Ave.
(50)

Bedford Park (east 3/4)
Bridgeview
Burbank
Forest View (majority)
Stickney

Thornton
138th
183rd
Western Ave.
Indiana State
Line

Blue Island (southern edge)
Burnham
Calumet City
Dixmoor
Dolton
East Hazel Crest
Glenwood (northern 1/4)
Harvey
Hazel Crest
Homewood (northeast half)
Lansing (northern half)
Markham (eastern 1/4)
Phoenix
Posen
Riverdale
South Holland
Thornton

West Chicago
North Ave.
Pershing (39th)
Harlem Ave.
Chicago River
/
Chicago Sanitary &
Ship Canal

Austin
Belmont Central
Belmont Heights
Belmont Terrace
Big Oaks
Bucktown
Craigin
Dunning
Edison Park
Galewood
Garfield Park
Hanson Park
Heart of Chicago
Hermosa
Humboldt Park
Irving Park
Irving Woods
Jefferson Park
Kelvyn Park
Kilbourn Park
Lawndale
Little Village
Logan Square
Monteclare
O'Hare
Old Norwood
Oriole Park
Noble Square
Norwood Park
Pilsen
Portage Park
Schorsh Village
Tri-Taylor
UIC
Ukrainian Village
Union Ridge
West Loop
West Town
Wicker Park

Wheeling
Lake County
Line
Central
Wilke Rd.
Des Plaines
River
/
I-294 (approx.)

Arlington Heights
Buffalo Grove
Des Plaines
Mount Prospect
Northbrook
Prospect Heights (majority)
Wheeling (majority)

Worth
87th
135th
Harlem Ave.
Western Ave.

Alsip
Blue Island
Bridgeview
Chicago Ridge
Crestwood
Evergreen Park
Hometown
Merrionette Park
Oak Lawn
Palos Heights (east half)
Robbins (north 1/4)
Worth (east 3/4)