Inspiration Cafe Lives Up to Its Name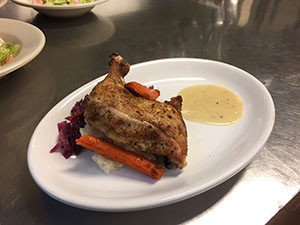 At Kensington Research and Recovery, we take a lot of satisfaction in being able to help ease the property tax burden for Chicago-area homeowners.
But for inspiration, we pair up once a year with an organization that devotes its efforts to helping people without homes, among other needy clients.
The Inspiration Cafe in Chicago's Uptown neighborhood provides what it describes as "hot, nutritious meals" to its clients, 365 days a year.

But "hot and nutritious" does not begin to describe the menu here, where a new chef recently took a team of Kensington volunteers on a epicurean journey that included learning how to prepare and serve a menu that featured braised Chilean pork with hominy and rice, heart of palm salad and 7-spice savoy cabbage.
A Palate-Expanding Menu in an Atmosphere of Respect
In the process, chef Kyle Petersen provided both us and the cafe guests with a palate-expanding description of the ingredients and seasonings used to prepare that day's dinner.
It is a deliberately elegant experience that the Inspiration Cafe manages to recreate seven days a week, as part of its mission to create an "atmosphere of dignity and respect" for hundreds of homeless and needy Chicago residents who come for the cafe's daily breakfasts or six-day-a- week dinners.
At Kensington, we've made volunteering at the Inspiration Cafe an annual event for our employees, an experience that is rewarding, educational and delicious.
Hallie Witmer, Development Associate at the Inspiration Corporation, which operates the cafe, says that Petersen, a veteran of some of Chicago's finest restaurants who joined in July as the meals program manager, "has completely elevated the quality of our food."
Petersen has been able to leverage his strong ties to the restaurant industry to open new sources of donated ingredients, in addition to bringing a bit of flair to the menu, Witmer says. Recent entrees have included chicken leg with peas and carrots in velouté sauce and sous vide lamb. Dinners at the cafe are always a minimum of three courses, built around a supply of food both donated and purchased.
Learn How You Can Help
Volunteers are a key ingredient. Two shifts of volunteer workers help prepare, serve and clean up at the cafe – no experience required. Witmer says most volunteers, who attend an orientation session before their first assignment, genuinely enjoy the experience, even beyond the good feeling that comes from giving back to the community. We could not agree more.
There are lots of other ways to be part of the effort. The Inspiration Corporation also provides a 12-week culinary jobs training program for clients that includes a restaurant in East Garfield Park as well as catering services. There are also housing and other programs designed to move clients out of poverty and toward self-sufficiency. To learn more about volunteer opportunities, visit the organization's volunteer page.