Investor Keeps Taxes Down, Profits Up With Kensington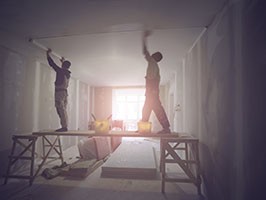 For Karl Peterson, residential property investment is a family business. The family buys buildings in need of repair, guts them, rehabs them and then rents them out.
With more than two decades of experience, Peterson has developed a sharp eye for a building's potential. His pet peeve: "When people don't do things the right way."
Shoddy attempts at renovation are just work he's going to have to redo. "I want it perfect," he says.
Peterson acts as the company's property manager as well. And he's perfectly comfortable fixing a tenant's heater in the middle of the night if he has to. But there is one aspect of the business Peterson does not attempt to do by himself: property tax appeals.
Tax Appeal Expertise Saves Time and Money
"You can't do it on your own," says Peterson. For one thing, there's no time. With 34 multi-family rental properties across West Chicago, Peterson already has his hands full.  He spends most of the day in his car. But he wouldn't be much of an investor if he left his property taxes to chance.
"If you're a long-term investor like we are, it does eat into your profits," he says. "I understand that (property taxes) are going to increase, but I can't pass it all on to the renters."
Instead, he hires Kensington to make sure that he's not paying more than he should. The company conducts a factual comparable analysis of his properties, and arranges for the appeals, every year, twice a year, using a proprietary algorithm to identify the comparable properties that make the strongest case for tax reduction.
If At First You Don't Win, Appeal Again
The result has been nearly $22,000 in savings over the past two years. That's money that Peterson can put back into his business.
Peterson said he had been using another company to do his appeals, but didn't really like the level of service he received.
"They just didn't seem on top of it," he said. "Kensington reaches out to me, to tell me when it's time to appeal. They've been pretty easy to work with. If there's one they don't get, they go back" and work on it again.
Find Out What Kensington Can Do to Save You Money
At Kensington, we know every property owner is an investor, whether you come to us with 30 properties or just the home you live in. We can't help you put in a new kitchen or fix your heater in the middle of the night, but we can make sure that the return on your investment is not leaking value because of a tax bill that is too high. Call us today for a free, no-obligation evaluation of your tax situation and we will run an analysis that will provide you with an estimate of potential savings. If we can't identify significant savings, we won't recommend an appeal.