The Myth About Qualifying for Mortgage Refinancing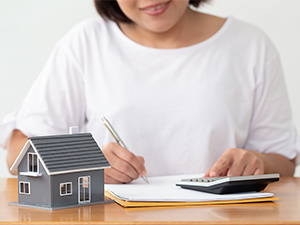 It's a common misconception that homeowners must have exemplary credit scores to qualify for a new loan or to refinance an existing mortgage, but this is far from the truth. Homeowners who hold an existing mortgage are – in most cases – eligible to refinance their current loan.
Unless you have experienced a significant decrease in your credit score, are recently unemployed, or have had another major life change, you should easily qualify for mortgage refinancing. For homeowners with extenuating circumstances, there are still options available for decreasing or temporarily pausing your mortgage payments.

Credit is Currency in the Mortgage Industry
When it comes to borrowing money, your credit score matters. But don't stress – if your score isn't as high as you would like, you can consider a Federal Housing Administration (FHA) mortgage.
While conventional loans have a minimum credit score of 620, FHA loans only require homeowners to have a credit score of 580 with 3.5% down at closing. For those who can afford 10% down on their homes, this credit minimum drops to 500. Unlike conventional loans, FHA loans are backed and insured by the government and tend to have more flexible lending standards.
Veterans are eligible for VA loans, insured by the U.S. Department of Veteran Affairs, that have no minimum credit score requirement. The VA does not lend money, but rather insures qualified lenders so that, if a borrower defaults on their home loan, the lender is protected by the VA.
Forbearance for Economically Challenging Times
Throughout the COVID-19 pandemic, a record number of Americans have been furloughed, laid off, or fired. If you have recently lost your job or are experiencing financial distress, you should consider forbearance options that allow homeowners to pause mortgage payments temporarily.
Designed to assist homeowners in short-term crises, mortgage forbearance allows borrowers to pause their mortgage payments until they have stabilized their finances. During the COVID-19 pandemic, most lenders are waiving the requirement of proof of hardship, settling instead for verbal or written verification from the borrower.
Homeowners should keep in mind that, unless their lender has agreed not to report it, forbearance will be reported to credit bureaus. However, for those in financially difficult situations, mortgage forbearance is still less damaging to your credit score than a missed payment and can ultimately help homeowners avoid foreclosure.
Every loan has different terms for forbearance, and homeowners should request a copy of forbearance terms prior to applying. All mortgages in forbearance are still eligible for refinancing.
Get Help from Mortgage Experts
If the process of refinancing seems overwhelming, you're not alone. Each loan is different and navigating a new or existing loan can be a daunting task. Let a Kensington industry-veteran mortgage broker help by exploring options to:
Reduce your interest rates;
Decrease your monthly payment; or
Pay off your mortgage faster
Contact us through the link below to get started.