Why Use a Service to Appeal Your Property Taxes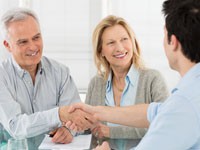 If you're a homeowner and you haven't appealed your property taxes this year (or ever), you're likely overpaying your county government by hundreds or thousands of dollars.
Third-party services exist to help you appeal your property taxes, but why use them when you could just do it yourself?
Experienced Reductions
The property tax system is complicated so it's very difficult for homeowners and condo boards to successfully appeal their own taxes. It's time consuming and identifying accurate comps is challenging on a good day. Most third party services offer many years of experience and high success rates. Though buyer beware: be sure to ask about what experience they actually have as some companies without much experience have recently entered the market.
No Up-Front Fees
Third-party property tax services almost always work on a contingency basis, so you pay nothing up front. You are only charged a percentage of the savings for the first year even though savings typically are realized over a 2-3 year period. As a result, third-party services are incentivized to get you the largest possible property tax reduction. If they try to charge you a fee up-front, know that there are alternative options out there which do not.
You Will Pay More If You Don't Appeal
As we covered in this blog post, the government is going to generate revenues they need from property taxes no matter what, so it's a zero sum game: if one homeowner has a reduction of $1,500, then others that do not appeal will need to make up the difference.
Go Local

Some companies have recently entered the market offering property tax appeal services nationwide. They lack experience and look more like an internet start-up. Who would you rather work with? A service based in California employing agents that are learning how to appeal property taxes with your account or an established partner that's successfully provided tax relief for over 10,000 clients over the past 15 years where you live?
Contact us to learn more about appealing your property taxes