Kensington Gives Back with a Side of Inspiration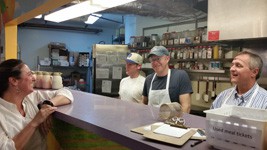 At Kensington Research & Recovery, our business is helping clients reclaim money that is rightfully due them. From receiving government refunds to appealing property taxes, we take great pride in helping our clients. At the end of the day, helping to make someone's life better is what we find so personally gratifying.
That feeling doesn't stop at the office door. We believe in doing the right thing and seek out opportunities to give back to our community.

The Inspiration Café
It was with great satisfaction that nine Kensington employees volunteered for the second year at the Inspiration Café, located at 4554 N. Broadway in Uptown, Chicago. Administered by the Inspiration Corporation, the café provides healthy and nutritious meals for those affected by homelessness and poverty. What sets it apart from other service agencies is the dedication to treating its clients with dignity and respect – it's not a soup kitchen but a restaurant where people order from a menu.
Volunteers don't just serve the meals, they help make them. From food prep to clean-up, the time flew by for the Kensington Team. Whether it was bonding with co-workers while chopping vegetables or chatting with guests, everyone enjoyed the experience.
A Rewarding Experience
According to Geoff on our team, "It was a good time. As someone with negligible kitchen experience, I thought it went really smoothly and I'm glad I was able to be of some assistance." Scott said, "I thought that the experience was wonderful. It was nice to help the less fortunate as well as to associate with coworkers outside of the office."
Taking the time to do something for others less fortunate is part of who we are at Kensington. Tera: "It was great to give back. I had a great time and would definitely do it again."
Kensington believes supporting organizations such as the Inspiration Café is important and we look forward to volunteering there again. Nella: "I enjoyed spending time with everyone. As in the past, it was a very rewarding experience." If you or your co-workers would like to get involved with the Inspiration Café, learn about volunteer opportunities here.
Contact us to learn more about appealing your property taxes