Nine Illinois Cities Ranked Among Places With Biggest Property Tax Bite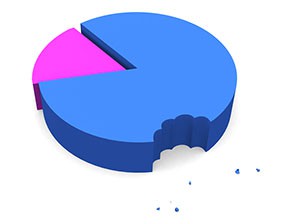 If you are a Chicago-area homeowner and it feels like property taxes are eating you alive, it is not entirely your imagination. Nine Chicago-area cities made a list of places across the country where property taxes take the biggest bite relative to median housing costs, according to a recently published analysis.
The analysis, conducted by SmartAsset, a financial technology company and personal finance blog, used data from the U.S. Census Bureau's American Community Survey to compare local property taxes as a percentage of housing costs in 599 cities across the country.
The results were not good news for New Jersey, which had six cities in the top 10, including number one, with property taxes in Paterson, N.J. making up nearly 35% of housing costs.
Chicago-area Property Taxes Reach 30 percent of Housing Costs
But the news was not much better for Illinois. In Evanston, the highest ranking Illinois city on the list at number 7, property taxes are a little more than 30 percent of housing costs, the analysis shows, with a median property tax bill of $8,228 and median housing costs of $27,252.
Eight other Illinois cities made the list of 24, including Naperville (30%), Arlington Heights (29%), Schaumburg (29%), Skokie (29%), Palatine (28%), Bolingbrook (28%) and Elgin (27%).
The bite is even worse for homeowners whose property tax bill is more than $10,000. New federal tax law now caps the amount of state and local taxes that can be deducted on federal income tax returns at $10,000.
Protect Your Investment with a Free Property Tax Reduction Estimate
Paying too much in property taxes diminishes the investment value of your home. And in Cook County, residents have every reason to worry that they are paying too much. Flaws in the Cook County system for assessing residential property value have left thousands of homeowners paying tax bills that don't reflect their fair share. And while the assessor's office recently announced a new model it believes will correct many of the problems, it's not something to bet your investment on.
Appealing your property assessment is the only way to be sure you are not paying more than your fair share.
At Kensington, we offer a free, no-obligation analysis of your assessed value that will show you how much you may save by appealing. There is no obligation to hire us to assist in your appeal. If we do help, you pay nothing unless we are able to help you obtain a significant reduction in your assessed value.
Your home is one of the most important investments you will ever make. And when it comes to your property taxes, what you don't know can hurt you. Contact us today to find out whether your tax bill is taking too big a bite.