Chicago's Inspiration Cafe Celebrates 30 Years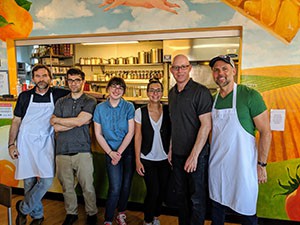 When it comes to helping Chicago area homeowners relieve their tax burden, we take a lot of satisfaction in the work we do for our clients. Once a year, however, we love stepping out of our usual routine to be part of something bigger.
Uptown's Inspiration Cafe has been serving delicious, restaurant-style meals to the homeless for 30 years. And volunteers are a big part of how it works. This year, as in past years, we sent a crew of Kensington employees to the Café to help prep, cook, serve and clear during a dinner shift.
It's a great experience among friendly people and a reminder of how many ways there are to make a difference in the community. We loved being part of "cheeseburger night," but we also always come away tremendously impressed by the work that this organization does.

Operated by the Inspiration Corporation, the cafe is the oldest part of an organization that has grown to include two cafes, a restaurant, a catering business and a culinary academy.
From a Little Red Wagon to 20,000 Meals a Year
Inspiration Cafe was founded 30 years ago by Lisa Nigro, a Chicago Police officer who was on a personal mission to address the homeless issues she encountered while on her beat in Uptown. What started as a woman armed with a red wagon filled with coffee and sandwiches is now a Chicago institution to serve the underprivileged. The Cafe has served more than 20,000 meals between its two locations in the past year. It is open 365 days a year, at both The Inspiration Cafe in Uptown and the Living Room Cafe, in Woodlawn.
Volunteers and Donors Keep the Meals Coming
The menu changes depending on what food is available or donated. One night may be hamburger night or a beef-and-rabbit stew, and another meal may be eggs Benedict served for brunch.
There would be no Inspiration Cafe without the efforts of volunteers and donors. Volunteers have the opportunity to work alongside talented chefs as well as serving meals to the Café's patrons. No professional experience is necessary.
This year, in honor of the organization's 30th anniversary, an anonymous donor has offered to match donations to the Inspiration Corporation up to $75,000.
Interested in becoming the next source of inspiration for an individual or family who needs relief? It's an inspirational experience that we can highly recommend. You can also donate by clicking here.
To learn more about what we do in our regular job, give us a call or click on the link below.