Cook County Commissioner Property Tax Advice: Appeal Twice, Every Year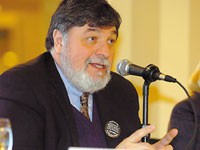 Larry Suffredin is the Cook County Board Commissioner for 11 North Shore suburbs and the 49th & 50th Wards of Chicago who's made a name for himself in changing county government and being a strong advocate for homeowners.
As reported by the Chicago Tribune's Bob Seidenberg in his article Cook County officials hold property tax seminar in Evanston, Suffredin said the following last week: "My attitude has been, in the 13 years I've been county commissioner, that everyone, everyone needs to appeal, twice a year."
Property Tax Appeal Example Situation
Suffredin went on to say, "What you need to do is realize you're the only person that is going to advocate for your own assessed valuation. After filing, homeowners can prepare for the process by checking out the assessment of other properties and comparing it to theirs. Everybody on one side of the street (on the woman's block) went up 70% while the other side of the street went down 20%. We found a glitch in the program. The Assessor is really (about) analyzing data — they want to analyze it correctly, so if you bring an anomaly to them they will look at it." Suffredin claims the woman stands to receive a substantial property tax reduction as a result.
Partner with Professionals
As we covered here, it can be complicated to determine the assessed value of neighboring homes and to determine which argument to use in your property tax appeal: comparable sales, lack of uniformity and economic value.
Why deal with this hassle and potentially leave a lot of money on the table when you can use a partner like us and our 90% success rate over 10,000 property tax appeals in Cook County?
Contact us for a free estimate for how much we can reduce your Cook County property taxes