Cook County Home & Land Assessments Increasing 17-25%+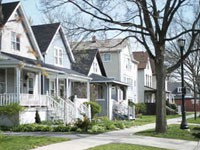 So far, three Cook County townships have been opened for property tax appeals that have been reassessed based on Cook County's triennial assessment schedule: Evanston, New Trier and Barrington.
The median assessed values on homes (not on land – more on that later) has increased 17-25% in these three townships. That being the median, we've represented many homeowners from these townships that have seen 40% increases in assessed home values.

Cook County Assessor Home Valuation Statistics
See for yourself: these increases in median assessed value for each township come directly from the Cook County Assessor's website here – just click on "View township valuation statistics" in your township listing. Valuations are only currently listed for townships whose 1-month property tax appeal window with the Assessor is open.
It Gets Worse
Though the statistics for Cook County are not readily available, we've noticed lately that assessments for land value are increasing. This represents a back door to permanently raising property value and has previously been unusual for developed areas.
Unfortunately, there's little that can be done to blunt the impact of this component of property taxes. Instead, this may warrant a call to your Cook County commissioner – you can find yours here. Let them know that they need to do their part to slow the growth in government spending, which is driving the increases in tax levies, if they want to have your continued support at the polls.
How Homeowners Can Counteract Property Tax Increases
Aside from moving away or making sure you're using all of your exemptions, the only way to counteract these substantial increases is to appeal your property taxes twice every year, at the Cook County Assessor and at the Board of Review. Using an experienced, third-party service like us is the best way to get a maximum reduction and not leave any money on the table.
Conversely, if you don't appeal your property taxes and all your neighbors do, guess who is going to pay even more next year?
Contact us for your free Cook County property tax reduction estimate